William Boyle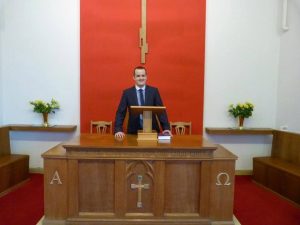 Firstly, it must be said that the script below was written when William was with us to complete the final stages of his training.
His training has been completed and on Sunday 16 February, he preached as Sole Nominee at Port Glasgow New Parish Church. He was accepted by an overwhelming majority of the Congregation.
Arrangements for his Ordination and Induction are in hand and will be confirmed by Presbytery in the near future.
We send him the best wishes of Westburn as he sets out in his new future.
Hello, my name is William Boyle and I'm currently training to be a Minister with the Church of Scotland. I have been training now since 2014 with the final stage of my training taking place here at Westburn Parish Church from August 2018 to October 2019.
I currently live in Greenock and my home congregation is St Margaret's Parish Church on Finch Road. St Margaret's has played a very big part in my life from a very young age, it is where I went through the Sunday School, Boys Brigade, became a Sunday school teacher, member and then an Elder. I have been truly blessed to be part of such an encouraging and supportive congregation.
My previous career before becoming a student Minister was in retail management. I worked in Safeway for three years and then Tesco for ten. My experience of retail especially management gave me the opportunity to meet people, plan and organize, manage a team, speak in front of a room full people at management meetings for example and sometimes deal with conflict situations. My time in retail helped prepare me for what was to come in the future.
In 2014 I attended the Church of Scotland Vocations conference held in Tulliallan Police College which allows you to find out more about Ministry. From there I went on a placement with the congregation of Langbank linked with Port Glasgow St Andrews and then attended the churches National Assessment process in Dundee where I was accepted as a ministry candidate. Going through this process affirmed my calling to Ministry and led me to make a big decision, which was to leave my job in retail management and focus solely on my calling.
The next stage was to attend University. I completed a BA Honors degree at the University of the Highlands and Islands. You need to complete a degree to train as a Minister. While at University you also join a congregation on placement where you spend ten hours per week working alongside the congregation and Minister. My placements have been at Old Gourock and Ashton Parish Church and Paisley Sherwood Greenlaw.  I also spent 10 weeks in the summer working with the chaplaincy team at the Queen Elizabeth University Hospital in Glasgow.
The final stage of the process is a 15-month full time probationary placement which is what I am doing here at Westburn Parish Church. In August this year I will attend my final review and from that can apply to a congregation and preach as sole nominee leading to my induction and ordination as a Minister of Word and Sacrament.
I have really enjoyed working my way through this process and thank God for this opportunity to serve him and his church. If you think ministry could be for you, then please speak to myself, your Minister or visit: http://www.churchofscotland.org.uk/serve/vocations or contact me directly at WBOYLE@churchofscotland.org.uk
With every blessing
William Boyle
Student Minister