Rev Karen Harbison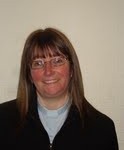 The Service of Induction of the Rev Karen E. Harbison to Greenock Westburn Church took place on Thursday 6th February 2014
A congregation of nearly four hundred which included a sizable contingent from her previous charge (Hamilton Trinity)  gathered to take part.
The Service was led by the Rev. Ken Gray Moderator of Greenock and Paisley Presbytery assisted by Rev Ann McCool and Rev Dr Peter McEnhill, Presbytery Clerk.
Using both our Main Hall and Youth Hall,  refreshments were served after the Service before we returned to the Sanctuary for our Wecoming Social. Further details and photographs can be found on a separate page.
On Sunday 9th February, the Rev Karen Harbison was preached in by the Rev Jonathon Fleming of Erskine Parish Church
Previously, on Sunday 27th October 2013, in front of a well attended congregation Karen had preached as Sole Nominee.
She conducted  a Service very much based on the theme of "Home is where the Heart is' , living  with God in our home, living well with our neighbours and the community. Her final hymn was 'Let us build a house'.
In preparation for Rev Karen Harbison preaching as Sole Nominee , the following newsletter was posted to every household in the congregation of Greenock Westburn
The Nominating Committee is delighted to bring forward the name of Rev. Karen Harbison M.A. B.D. 0f Trinity Church, Hamilton as Sole Nominee for the vacancy here at Greenock Westburn.
Rev Karen Elizabeth Harbison is 49 years of age, married to Calum with a son, Duncan, who is 20 and a daughter Eilidh who is 15 and has been minister at Trinity Church, Hamilton since September 1991.
She was born and brought up in the Clydebank area, attended the local high school before graduating from Glasgow University in 1984 with a Master of Arts degree in French and German. On leaving university, she undertook Youth Work for a year and then returned to graduate Bachelor of Divinity, again in Glasgow in 1990. After a period of one year as assistant at High Kirk, Dundee she was inducted at Trinity Church, Hamilton.
Any spare time is spent enjoying craft work, walking, reading and valueable time with family and friends.
Described by a fellow minister as " the ideal person to lead the congregation of Greenock Westburn in their challenges and their vision in the time ahead".
The Nominating Committee is unanimous in its choice to bring the Rev Karen Elizabeth Harbison forward a Sole Nominee for our vacancy and cordially invite you to attend on Sunday 27th October at 11.00am to hear her preach and as a member of this congregation to take part in the ballet.
Tea and coffee will be available in the Centre Hall while the ballot is being counted. On completion of the count, we will return to the Sancuary for the announcement.
Below are photographs of Karen husband Calum and her children – Duncan and Eilidh