Prayer Time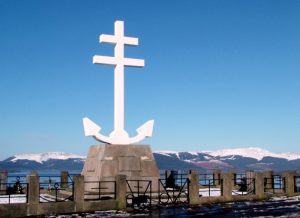 The logo of Greenock and Paisley Presbytery comprises an anchor with a superimposed cross (inspired by the Cross of Lorraine).
   ALL YOU NEED IS LOVE
The well known minister and professor of divinity, William Barclay, once said that more people find their way into church through act of love than through theological argument. Here is a wee tale from Austria that seems to corroborate Barclay's assertion.
Klaus Maria Hofbauer was a priest who became known as the apostle of Vienna as a result of his love and active support of deprived, disadvantaged and destitute people living in the rich capital city. To further his work he had no compunctions about begging for money on their behalf, and at night he would regularly tour around bustling cafes and clubs, where he would circulate round the tables chatting amiably to customers and requesting a small donation that he might use to help the many unfortunate people that he knew. He usually had a good response, however one night he encountered a particularly hostile individual, who proceeded to describe viscerally his contempt and hatred of the church. Then to emphasise his point he spat in the priest's face.
I wonder how we might have reacted in such a situation. Father Hofbauer calmly took out a tissue and wiped his face. He then turned again to his assailant, smiled and said: "OK, that was for me and the church. Now would you please make a small donation for the poor people who need our help?"
And he again held out his hat. And in so doing he made such an impression that the man opened up his wallet and emptied its entire contents into the priest's hat.
BLESS THOSE THAT PERSECUTE YOU; BLESS AND DO NOT CURSE.   Romans 12:14