Order of Service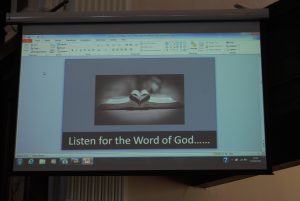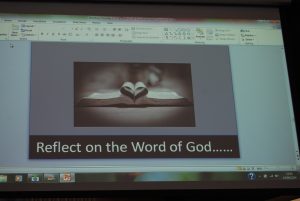 It is our intention to give the Order of Service for the coming Sunday on this page.All vistors are welcome. Please feel free to sit in any pew.                                                                                            
Order of Service    
    Sunday 23rd February 2020
         Climb every mountain (Transfiguration)
                   We gather as the people of God 
           Bible / Introit – Choir – Welcome / Intimations
(**Denotes please stand if able)
 Call to worship
      **Hymn 189 – Be still for the presence of the Lord
Prayer
Time with children
** Hymn – Lord of wonder
We listen to stories of faith and hope
Readings: Matthew 17: 1 – 9
**Hymn 355 – You Lord are both Lamb and Shepherd.
Sermon
     We respond in faith and hope
Offering, **doxology & dedication
** Hymn  250 – Sent by the Lord
Prayer
Reflection
**Hymn  – God, the mountains tells your glory
We go into the world in faith and hope
**Benediction, Amen
Sung Blessing
Thought –   Take one day at a time. Today, after all, is the tomorrow you worried about yesterday.
Prayer – Everlasting God, we thank you that your written Word continues to inspire us, showing us who you are, how you love us, how we should live and what we can be. Amen
Intimations
Tea & Coffee – will be available in the Church Centre Hall at the close of the service. Please join us for fellowship.
Evening Service – this evening at 7p.m.We meet in the lounge for Taize style worship with songs, music, prayer and quiet reflection, followed by tea/coffee in the Hub.
Westburn Community Links Committee – will meet in the Hub area after this morning's service. All Welcome
Communion – Sunday 1st March  –Communion will be celebrated at 11a.m and 3p.m
From Now On –we join together with friends from our neighbouring ' fuzzy parish' congregation for a Lent Bible Study based on themes from The Greatest Showman film. Come and watch the film on Tuesday 25th February at 7p.m. in Old Gourock and Ashton Church– pancakes provided, then the discussion group begins on Wednesday 4th March from 7.30p.m – 9p.m. in St John's Church
 Palm Sunday Event – will take place on Sunday 5th April from 4 – 6p.m. in Westburn Parish Church. More details to follow.
Fishy Music– training event for those working with primary school aged children takes place on Monday 9TH March at 7.30p.m. in Old Gourock & Ashton Church
 Guild – 25th February – Stitches- Sandra McCorkell
Guild are hosting a " Songs of Praise" on Tuesday 3rd March at 7.30pm. All are welcome (men as well as women).Bring along your friends.
Safeguarding training: A date has been arranged for Safeguarding training for elders.  This will be held in our own church, Greenock:Westburn, on Sunday 19th March 2020 from 2pm – 4pm.  Any elder wishing to attend, please contact Jennifer Boag: (Tel:720125 e-mail jenniferboag@hotmail.com) or Sheila Tait (Tel:0748 418 2757 e-mail: sheilatait172@btinternet.com) as soon as possible.
Bible Study – The Discipleship Committee is arranging a short series of Bible Study meetings. These meetings will focus on some topics taken from Matthew's gospel. The meetings will be on 26th  February and 4th March. They will be held in the Hub and will begin at 12.00, lasting about an hour. All are welcome to join us at these meetings whether to listen or to contribute your own thoughts.At previous Bible Study meetings we have been fortified in our reflections by small snacks. If anyone would like to help out with simple catering for these meetings please let a committee member know: Margaret Dempsey, Ian Ferdinand, Janette Nicolson, Douglas Scott.
LIFE AND WORK. March issue now available priced £2.80. This month's cover articles are SCOTLAND 2020, the changing face of Scotland since the millennium, CHANGED BY AFRICA, social enterprise group trip to Zambia, TAKING STEPS OF FAITH, Interview with chief executive of National Weekend of Invitation and much more inside. A few subscriptions are still outstanding, payment as soon as possible would be appreciated. Cheques should be made payable to Westburn Church. All enquiries contact Shelagh Hendry Tele 794667 shelaghhendry@icloud.com
Intimations – Please send intimations from now on to Cath and Brian – details on back page.  Thanks
Order of Service and Intimations are available on our website.          www.greenockwestburn.co.uk
Follow us on Facebook    Westburn Parish Church Greenock
Morag – morag1962@yahoo.co.uk
Follow us on Twitter   @WestburnC
Judith –  judithhaw@gmail.com
Intimations for Order of Service for next week should be submitted by 5.00 pm .next Wednesday to:- cathbarbour1@btinternet.com and brian_lindsay22@yahoo.co.uk                       
 Duty Team next week is F
Church Officer next week Duncan
Creche Duty next week- Jennifer Lindsay, Louise Hayton
Greenock Westburn Church, 9 Nelson St. Greenock
Tel:-720257 ( www.greenockwestburn.org.uk)
Scottish Charity No:- SC005106
Revd. Karen E. Harbison Tel:01475721048  Email: calumkaren@yahoo.co.uk
"WORSHIP, FRIENDSHIP, ACTION

             a kirk that cares"
If you have any information you would like to pass to the minister. Someone ill, in hospital or in need for a ministers visit or a change of address, please fill in the form and give it to the minister or any office bearer, thank you
Name:
(Mr/Mrs/Miss)
……………………………………………………….
Address:
………………………………………………………………………………..………………………………………………………………………………..………………………………………………………………………………..
Tel No.
………………………………………………………………………………..