Order of Service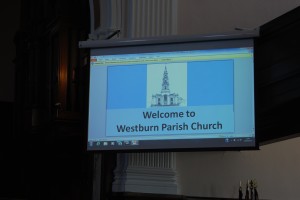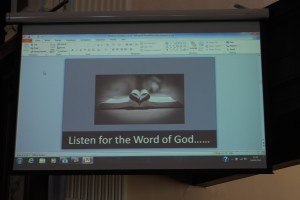 It is our intention to give the Order of Service for the coming Sunday on this page together with  the Intimation.
We will be delighted to welcome you at any of our Services
Feel free to join us and sit in any of our                                     
         Order of Service    
                  Sunday 30th July 2017
                        Being Church
                        One Body
                            We gather as the people of God
         Bible / Introit / Welcome / Intimations
** (Denotes all stand if able)
 Call to Worship
         **Hymn –  200 Christ is made a sure foundation
Prayer & Lord's Prayer
       We listen to stories of faith and hope
      Time with the children
** Hymn – 204 I am the church
       Reading – Ephesians 4: 1 – 16
   ** Hymn Bind us together
Reflection
    We respond in faith and hope
     Offering ,**doxology  & dedication
** Hymn – 724 Christ's is the world
Prayer of thanksgiving and intercession
Poem           
** Hymn – 511 Your hand O God has guid
  We go into the world in faith and hope
** Benediction & Amen 
 **Sung blessing   –   Go out and serve him
 Thought:  No matter what our circumstances, we can find a reason to be thankful. Dr David Jeremiah
Prayer-   Thanks for being with us in whatever has been tough and tiring this past week, Thanks for keeping us going in the tasks we've had to get done, Thanks for the small signs of your presence, The delights of the world that have made us smile, The daily bread of friendship and laughter and sunshine.
                               Intimations
Tea and Coffee – Will be available at the close of the Service in the Main Hall.
Crèche – During the 11.00 a.m. service there is a crèche available in the Lounge for babies and toddlers.
Karen is on Holiday, for 1 week until Thursday 3rd August. Pastoral care will be covered by Rev David Burt of Old Gourock and Ashton.
Zeffi's Zoo – This year's Holiday  Club will take place from Monday 14th – Wednesday 16th August from 10am – 12 noon.
This is open to all primary school aged children, including those who have just finished P 7 and about to start P 1. There are some flyers available today. If you know a family with primary school aged children that you could give a flyer to, please take one with you and pass it on.
Pastoral Care Committee –  will meet on Tuesday 8th Aug. at 2.30pm.
LIFE and WORK- August issue is now available priced £2.50. This month's cover articles are SCOTLAND'S CROSSES , MY JOURNEY HAS BEEN LONG AND DIFFICULT, The Rev Boitumelo Johanna Gaborone of The United Presbyterian Church of Southern Africa and THE KIRK, AND THE FRINGE and much more inside. All enquiries to Shelagh Hendry Tele 794667
Worship Committee – Have produced two prayer cards which have been put in the pews. They are particularly intended for visitors to take away as a reminder of their visit, but if you would like to take one for your own use or to give to a friend, please do so.
 CHURCH OUTING 13TH AUGUST 2017
We are meeting at Finlaystone Estate just before 1pm on the above date.  Accommodation has been booked for us to meet together, and for shelter, in case of bad weather.   An area has also been set aside for us to have games and races.
The children will also be entertained by a ranger who will take them away for about an hour on a mini beast safari, allowing the grown-ups a bit of free time for a wander round the beautiful estate or to pop in for a coffee and some cake !!!
The event is open to everyone so it would be great to see some new faces coming along – you don't need to have a child with you, everyone is welcome.  If you would like to join us please put your name and details on the flip chart outside the vestry or e-mail lynnecairns@btinternet.com
Anyone who requires transport will be accommodated.
Many thanks Lynne
Messy Church – We have a Messy Christmas project in mind that will need some, cream, brown and black aran wool. If anyone has aran wool of these colours which they will not use and would like to donate, could you please contact Morag so that she can arrange to collect it. Contact 07963871810  .
 Flower Delivery  – If you can help to deliver flowers after worship today and during August please add your name to the Flower Delivery List. Thank you
  Order of Service and Intimations are available on our website.
Follow us on Facebook
Intimations for Order of Service for next week should be submitted by 5.00 pm .next Wednesday to:-
Duty Team next week is  G
Church Officer next week is Gillian
Greenock Westburn Church, 9 Nelson St. Greenock
Tel:- 720257 ( www.greenockwestburn.org.uk)
Scottish Charity No:- SC005106
Revd. Karen E. Harbison Tel:01475721048  Email: calumkaren@yahoo.co.uk
"WORSHIP, FRIENDSHIP, ACTION

             a kirk that cares"
If you have any information you would like to pass to the minister. Someone ill, in hospital or in need for a ministers visit or a change of address, please fill in the form and give it to the minister or any office bearer, thank you
Name:
(Mr/Mrs/Miss)
……………………………………………………….
Address:
………………………………………………………………………………..………………………………………………………………………………..………………………………………………………………………………..
Tel No.
………………………………………………………………………………..