Order of Service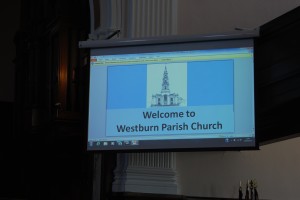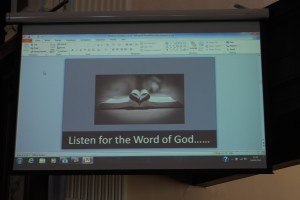 It is our intention to give the Order of Service for the coming Sunday on this page together with  the Intimation.
We will be delighted to welcome you at any of our Services
Feel free to join us and sit in any of our  pews                                    
         Order of Service  
  Sunday 14th January 2018    
   We gather as the people of God
  Word of abundance
    Bible / Introit / Welcome / Intimations
  ** (Denotes all stand if able)
  Call to worship  
**Hymn 336 – Christ is our light
Prayer
     We listen to stories of faith and hope
Time with children
**Hymn –  Running over
Reading –  John 2:  1 – 11
** Hymn –  In Cana at the wedding feast
Sermon
  We respond in faith and hope
Offering , doxology & dedication
**Hymn  180 – Give thanks with a grateful heart
Prayer
  Reflection
Hymn 519 – Love divine
We go into the world in faith and hope
** Benediction & Amen
**Sung blessing   
THOUGHT: God grant me the serenity to accept the things I cannot change, the courage to change the things I can and the wisdom to know the difference,
PRAYER: God as I open my eyes to the world, please open my eyes to what you want me to do,  Amen
Intimations
Tea and Coffee – Will be available at the close of the Service in the Church Centre Hall. Please join us for fellowship.
Crèche – During the 11.00 a.m. service there is a crèche available in the Lounge for babies and toddlers.
EVENING SERVICE –Evening Service will take place on Sunday 21st January at  7pm in the lounge. Come along to hear and sing and reflect on themes prompted by some of the works of Robert Burns. Tea/coffee and shortbread after the service.
Memoranda Books for 2018-19  for Elders and Office Bearers are available today from Cath Barbour or Joe Craig
Pastoral Care Committee – will meet on Tuesday 16th January at 2.30pm.
LIFE AND WORK January issue now available priced £2.50. This month's cover articles are CELEBRATING YOUNG PEOPLE, HOLOCAUST MEMORIAL DAY, HOMELESS SUNDAY and BRIDGING GENERATIONS, and much more inside.
SUBSCRIPTIONS for 2018 are now due, £27.50 no price increase from last year.
Saint Andrew's Press are offering a 10% discount on all books, resources and stationery till 31st May. See poster in centre foyer for more details.
All enquiries to Shelagh Hendry Tele 794667.
  EASTER MAGAZINE –As Session meets on Wednesday 7th February,
it is time to think about Magazine Material.
      1 – for written – Sunday 14th January 2018 to Brian Lindsay
2 – for e-mail  –  Wednesday 17th Jan. to brian_lindsay22@yahoo.co.uk
  THE ROTARY CLUB OF GREENOCK – Annual Coffee Morning will be held on Saturday 20th January 2018 in the Church Hall from 10.00am till noon.  With baking, bookstalls and the usual raffle.  The Club this year has decided to support the British Heart Foundation and the proceeds will be donated in memory of George Anderson.
Tickets priced £2 and are available from Bill Dempster or pay at the door on the  20th January
.GUILD SYLLABUS FOR 2018
 January
16                     Rotary                    Mr. K. Melville
 23                    Smalls for All           Mrs. R. Lundy
30                    Food in the Bible     Rev. Branwen Rees
February
6                     Christian Motorbikers         Rev. Terry Wright
13                    Reach for Autism
20                   Project – Mission International
27                    A.B.M. & Bible Study
March
6                    Behind Investitures              Alan Aitken  MBE
13                    Watch this space.
20                    People of the Way               Ann Love
27                    Holy Week
April 
16        Pres. Council A.B.M. followed by Entertainment   St. Andrews P.G.
SOUPER SUNDAY– it was decided that soup from Messy Church       would be served after Worship today. Donations will be sent to Mary's Meals, £13.90 feeds one child a day for a year.  Members of Messy Church felt they would like to give something to children less fortunate than themselves as a thank you for the support you gave our funds before Christmas. We hope you will support us again and allow us to feed some children less fortunate. Thank you.
Flower Calendars for Donors and Deliverers  are available on the table at the foot of the North Gallery stairs. Members can add their names there. Many thanks to those who donate and/or deliver, it is much appreciated by those in the church on a Sunday and those who receive them after the service.
Used Stamps – Many thanks to all those who  their  used stamps in the little red basket. Please continue to support this worthwhile cause
Order of Service and Intimations are available on our website.
Follow us on Facebook
Intimations for Order of Service for next week should be submitted by 5.00 pm .next Wednesday to:-
 N.B. cathbarbour1@btinternet.com
Duty Team next week is D
Church Officer next week is Gillian
Greenock Westburn Church, 9 Nelson St. Greenock
 Tel:- 720257 ( www.greenockwestburn.org.uk)i
Scottish Charity No:- SC005106
Revd. Karen E. Harbison Tel:01475721048  Email: calumkaren@yahoo.co.uk
"WORSHIP, FRIENDSHIP, ACTION

             a kirk that cares"
If you have any information you would like to pass to the minister. Someone ill, in hospital or in need for a ministers visit or a change of address, please fill in the form and give it to the minister or any office bearer, thank you
Name:
(Mr/Mrs/Miss)
……………………………………………………….
Address:
………………………………………………………………………………..………………………………………………………………………………..………………………………………………………………………………..
Tel No.
………………………………………………………………………………..