Rev William Armstrong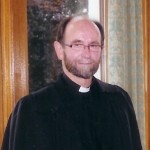 As the Right Rev William Hewitt carried out his duties as Moderator of the General Assembly of the Church of Scotland and following the retirement of the Rev Douglas Hamilton, we were pleased to have the Rev William Armstrong in the position of Interim Moderator. of Greenock Westburn Church.
It was good that Bill did not come to us as a stranger but as someone who was well know locally having served as Minister of nearby Skelmorlie and Wemyss Bay Church for a period  of  29 years
In his typical style, he enjoyed to his time with us and the challenge that it brought.
In the Summer2009 issue of our Magazine, he wrote as follows:-
When I retired  in February 2008, I had intended to play golf and let the world go by. That lasted for 6 weeks. Then I was invited to act as Locum in St Andrew's, West Kilbride where I had served as probationer assistant 30 years ago – I could hardly refuse. Four months later I "retired" for a second time. Next came an invitation to occupy a similar role at St John's, Gourock; again I could not refuse – I had been Interim Moderator in the last vacancy there and I was pleased to go back again.
As soon as my next "retiral" date came into view I was asked by the Rev Bill Hewitt to substitute for him on a full-time basis throughout his moderatorial year. . The challenge was too great to resist. If all goes according to plan, my next "retiral" date will be in June 2010.
What of myself? No doubt by this time you will have found out a bit about me but for the record, and to avoid speculation, I will list a few potted details.
My roots are in the Stewartry of Kirkcudbright. On leaving school I trained as an engineer with Ferranti in Edinburgh. Eight years later I moved to Marconi in Fife.By this time Laura and I had married and the first two of our three children were born in Dunfermline. Laura trained as a nurse in the Western General Hospital in Edinburgh.
Four years later I answered the call to full-time ministry and trained at New College in Edinburgh.
After serving out my probationary year I was called to Skelmorlie and Wemyss Bay, my only charge, where I served for 29 years. Laura was invited to become the local practice nurse and continues the work which she thoroughly enjoys. In October 2007, we became grandparents for the first time when our elder daughter presented us with our grandson, Bruce William.
What do I hope to achieve during my time with you? Well, I have not come to Westburn just to hold the fort until the moderator returns. The work of the congregation will continue, and I will give as much time and leadership as possible within the limits of my knowledge of the congregation.
I have also agreed to take on the responsibility of chaplaincy to Ardgowan Primary School and Greenock Academy
I hope and pray that the year ahead will be productive and enjoyable for us as together we continue with God's encouragement to witness for Christ in the congregation and parish. I certainly relish the challenge.
As his time draws to the end, it is true to say that we have  time enjoyed our time with Bill. He has worked hard and his pastoral work has been appreciated throughout the congregation. In turn, he has recognised the warm welcome received as he carries out his duties.
His final Service with us was on Sunday 27th June when he said farewell to the congregation. He will be assured of a warm welcome any time he returns to our Church.
Click on to the sub page above to view events on the day
Perhaps but doubtfully, he has celebrated his final retirement,