Induction at St Clement's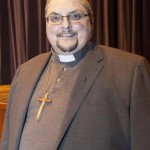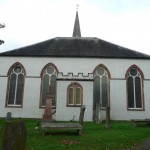 After a vacancy of 18 months, Dingwall St Clement's Parish Church welcomed the induction of the Rev Bruce Dempsey on Thursday 4 December 2014. He was formally a minister in Coupar Angus
Under the auspices of the Presbytery of Ross, the Service of Worship and Induction was conducted by Moderator Mr K MacKay assisted by Presbytery Clerk Mr Ron Gunstone. The Service was well attended and included representatives of other churches and denominations in the town
The Service opened with the Call to Worship followed by the singing of the hymn 'Christ is made the sure foundation'. This was followed by prayers and reading of the Scriptures at Isaiah 40; 1-5 and Mark 1: 1-8.
The Hymn 'I stand in the presence of Jesus the Nazarene' was followed by the Sermon given by Rev Stephen MacDonald, minister of the nearby Dingwall Castle St Church, who was Inducted a few months ago.
The Apostles Creed was then said by the congregation prior to the Clerk reading the Narrative and the Moderator giving the Preamble, Questions and signing of the Formula
The Service continued with the Hymn 'Come, Holy Ghost, our hearts inspire, followed by the Induction and Right Hand of Fellowship, Prayer Questions to the Congregation.
The Address to the Minister & Congregation was then given followed by Prayers.
The concluding hymn was 'Thou are before me, Lord, thou art behind me' followed by the Benediction.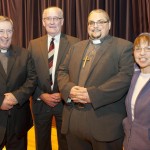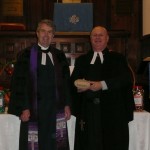 The Congregation then adjourned to the nearby Town Hall where the Rev Bruce received a warm highland welcome at the socialpart of the evening.
A Welcome and Prayer was given by Interim Moderator Rev. D.McSween followed by singing of the hymn 'Will Your Anchor Hold'
Rev D. McSween said Grace before a well presented 'Tea' was served.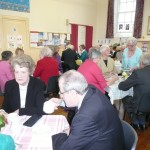 The evening continued with Welcomes being given to Presbytery and to Dingwall & St. Clements. Presentations were made to various being involved with the Vacancy and to Rev Bruce Dempsey and his wife Kathryn.
Under the direction of Andrew Adamson (formally principal teacher of music at Dingwall Academy) a massed choir named the St Clement's Singers sung a selection of songs including one specially written to record the evening and to see what 121 had sent.
Conclusion of the evening was the Vote of Thanks, a short address by the Rev Bruce followed by the Benediction.
On Sunday 7 December, the normal 'Preaching In' was dispensed with and the full Service was taken by the Rev. Bruce