Easter Early Birds 2017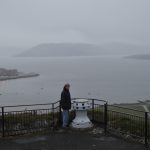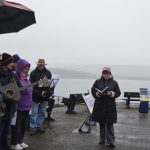 It had to happen eventually. After nearly 30 years, Easter morning broke to a damp start.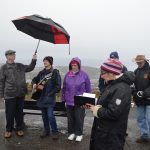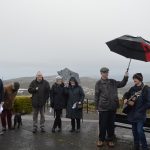 Not to be deterred, a couple of dozen people gathered at the top of the Lyle Hill at 7.00 am for our traditional Easter morning dawn Service albeit in somewhat dismal weather.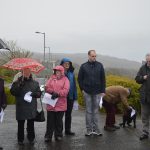 Our Rev Karen Harbison conducted  simple act of worship.  The musical accompaniment was provided by her husband Calum, David Burnie & Ricky Martin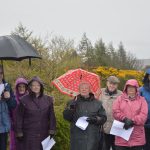 On a morning that could best be described as 'damp' the gathered congregation enjoyed the Service that commenced with the hymn 'This is the day and concluded with 'Thine be the glory'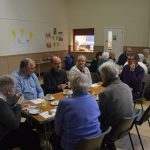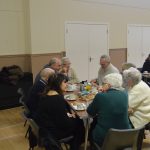 At the conclusion of the Service we made their way back to the church hall where Patricia Roberton and Sandra Downie had a warm welcome waiting with a supply of bacon and slice rolls washed down by orange juice, tea and coffee. Hot Cross buns and Easter eggs finished it off.