Big Saturday 2013
Saturday 16th February 2013 saw us opening the church doors to the kids in our area – and beyond.
The crafts were set out, the dance mat connected up, bouncy castle, zorb ball and sumo suits made ready for, HOPEFULLY, our 3rd successful BIG SATURDAY EVENT.
We waited in anticipation – at one point thinking that we would have more helpers than children, but we needn't have worried, because come 2pm the children arrived – over 40 of them!!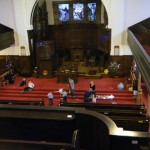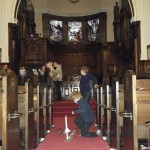 They all seemed to enjoy themselves, firing rockets in the sanctuary, decorating the tree in the foyer, going o a picture trail and then re-energising at the tuck shop.
We ended in the main hall with parachute games and come 5pm sent them all home with an invite to come back next month to have more fun at MESSY CHURCH.
All in all it was a great day with many parents thanking us and saying that they will come back next time, so thank you to all who organised the event and also those who turned up to help on the day, and especially to the band who kept us cheerful all day:- SEE YOU NEXT TIME