Kirk Session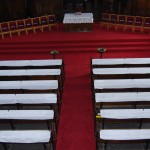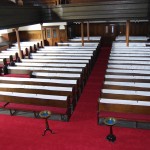 Joint Session Clerks:=- Miss E. Irvine & Miss H. Munro
As part of the Terms of Union, it was agreed that the Kirk Session of Greenock Westburn Church should operate under the Unitary Constitution.
A Committee structure is in place to cover the different areas of responsibility. Convenors of the various Committees are listed on the 'Office Bearers and Convenors' page
Working in teams, Elders are appointed to cover geographic Districts and are responsible for ensuring that the Congregation is given pastoral care.
The composition of the Teams are as follows:-
District Number 1

Central
Mrs J. Dempster

District Number 2

Nelson St.
Miss E. Irvine
Part South St
Mr A. Munro
Part Newton St

District Number 3

Part South St
Mrs S. Hendry
Denholm St
Mrs E. Robertson
Part Finnart St
Missj. Lindsay
Fox St

District Number 4

Part Newton St

Mr J. Cumming

Part Campbell St

Mrs M. McCracken

Part Forsyth St

Mrs A. Tait

District Number 5

Part Finnart St
Mr B Lindsay
Part Brisbane St etc
Miss S . Tait

District Number 6

Ardgowan St
Mrs M. McQuat
Part Brisbane St
Mrs A. Wright

District Number 7

Union St
Mr G. McCracken
Part Brougham St
Mrs P. Robertson
Eldon St
Mr J. Munro
Part Esplanade
Mr C. Lindsay

District No 8

Part Newark Street
Mr I Ferdinand
Part Eldon Street
Mrs H. Maclean
Bentick Street
Mr.L. McNeill
Wellbeck Street
Wood Street etc

District No 9

Battery Park Ave & Drive
Mr J. Bell
Lyle Road etc
Mrs A. Seggie
Part Newark St.
Mrs W. Leslie
Part Esplanade

District No 10

Gourock East
Mrs M. Anderson
Mr J. Craig
Miss H. Munro

District No 11

Gourock West
Mr M. McKerlie
Mr J. Murray

District No 12

Larkfield
Miss A. McCrae
Braeside
Mr I. McDonald
Fancy Farm etc
Mr D. Pinkerton
Mrs c. Barbour

District No 13

Grieve Rd.Skye St.
Mr D. Burnie
Iona St. etc
Mrs C Webster
Part Old Inverkip Rd
Gateside etc

District No 14

Pennyfern
Mr J. Barbour
Part Old Inverkip Rd.
Old Largs Rd
Brachelston St.

District No 15

Dunlop St. Area
Mrs M. Barnett
Murdieson St, Mount Pleasant St
Mr B. Dempster
Part Dempster St,. off Cornhaddock
Mr R. Martin

District No. 16

District No 17

Trafalgar St.
Mr R. Seggie
Regent St.
Mr D. Scott
Hope St. Bank St.
Part Wellington St. etc.

District No 18

Orangefield to Sir Michael St. etc
Mr. S. Robertson
Mr A. Swan

District No 19

Greenock East
Mr F. McAllister
Port Glasgow
Mr S. Hutton
Mr A. Borland

District No 20

Inverkip
Mrs L. Cairns
Weymess Bay
Mrs M. Mitchell
Largs etc.

District No 21

Postal
Session Clerks

District No 22

Care Homes
 Pastoral Committee