Duty Teams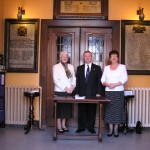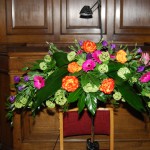 A total of 9 Teams are responsible for welcoming and offertory duties at Sunday Services..
All Office Bearers on Offertory Duty should be at the Church no later than 30 minutes prior to the start of each Service and are also on duty at any mid week Services during the following week.
Offerings will be uplifted after the Sermon. Four of the Office Bearers on duty will take the offering forward to be received by the Minister as per the Order of Service instructions.

All members of the Team should assist in counting the Collection and are asked to make a particular point of welcoming strangers and, if necessary, conduct visitors to a pew.
Composition of Duty Teams are as follows:-

| | | | | |
| --- | --- | --- | --- | --- |
| Team A | | A. Munro | Mrs A Wright | Mr. J. Kelly |
| | | I Ferdinand | Mrs M. Ritchie | Mrs A Tait |
| | | Mr I. Tait | | |
| | | | | |
| Team B | | Mrs A. Seggie | Mrs C. Barbour | A. Borland |
| | | Mrs I. McKenzie | Mrs D. Borland | Mrs E. Stuart |
| | | Mrs W. Leslie | R. Seggie | Mrs E. Pinkerton |
| | | | | |
| Team C | | I. Appleton | Mrs E. Appleton | S. Hutton |
| | | Mrs J. Cameron | Mrs C. Webster | |
| | | | | |
| Team D | | Mrs M. McCracken | J. Barbour | Mrs L. Cairns |
| | | Miss M. Crawford | D. Scott | Mrs E. Haw |
| | | R. Martin | L. McNeill | |
| | | | | |
| Team E | | Miss E Irvine | Mr C. Lindsay | Mrs J. McGhie |
| | | Mrs V. McKechnie | Mr. F. McAllister | Mrs C. Morrison |
| | | Mrs M. Mckay | | |
| | | | | |
| Team F | | W. Dempster | Mrs M. Barnett | Mrs J. Dempster |
| | | Mrs P. Cumming | J. Cumming | J. Murray |
| | | Mrs R. Gillies | Miss A. McCrae | |
| | | | | |
| Team G | | I Howe | Mrs M. Anderson | Mrs S. Currie |
| | | S. Robertson | M McKerlie | Mrs H. Maclean |
| | | Mrs J. Mitchell | Mrs M. Miller | |
| | | | | |
| Team H | | J. Munro | J. Bell | Miss J. Boag |
| | | Mrs S. Hendry | Miss H. Munro | G. McCracken |
| | | Miss J. Lindsay | Mrs M. Mitchell | |
| Team J | | Mrs E. Robertson | D. Pinkerton | D. Burnie |
| | | I. McDonald | J. Craig | B. Lindsay |
| | | Miss S. Tait | | |
For year 2020, rotation of Offertory Duties is as follows:-
| | | | | | |
| --- | --- | --- | --- | --- | --- |
| January | 5 | 12 | 19 | 26 | |
| | G | H | J | A | |
| February | 2 | 9 | 16 | 23 | |
| | B | C | D | E | |
| March | 1 | 8 | 15 | 22 | 29 |
| | F | G | H | J | A |
| April | 5 | 12 | 19 | 26 | |
| | B | C | D | E | |
| May | 3 | 10 | 17 | 24 | 31 |
| | F | G | H | J | A |
| June | 7 | 14 | 21 | 28 | |
| | B | C | D | E | |
| July | 5 | 12 | 19 | 26 | |
| | F | G | /H | J | |
| August | 2 | 9 | 16 | 23 | 30 |
| | A | B | C  | D | E |
| September | 6 | 13 | 20 | 27 | |
| | F | G | H | J | |
| October | 4 | 11 | 18 | 25 | |
| | A | B | C | D | |
| November | 1 | 8 | 15 | 22 | 29 |
| | E | F | G | H | J |
| December | 6 | 13 | 20 | 27 | |
| | A | B | C | D | |