Welcome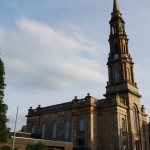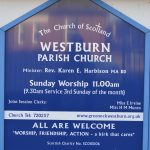 Welcome to the website of Greenock Westburn Church of Scotland

During this time when we are unable to meet together in our usual ways, we will be adding something here and on our facebook page on a daily basis…. a reflection or a prayer or a story or information or a thought or something to pass on from somewhere else.
Please continue to keep in touch with friends, family , congregation members and neighbours by phone, social media and why not send someone a card or note.
Thank you
Karen
Click here for our Facebook page.
Here is the latest news from our minister
Our initial posts can be found on the Westburn at Home page
Our web site will be regularly updated, so do visit us again.
If it was your purpose to visit our site, we hope that you find the information you are looking for.
If chance took you to our web site, we trust that you will find it of interest.
If you cannot find the information you are looking for, or if we can be of help in some other way, please don't hesitate to contact us. We will do our best to be of assistance.
If you are local or ever visit our area, please be assured of a very warm welcome at Greenock Westburn Church.
Photographs are displayed on various pages. By clicking on to one, an enlargement is shown.
Many thanks for browsing our site. We hope that you will enjoy your visit.