Welcome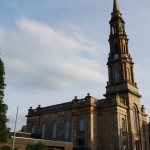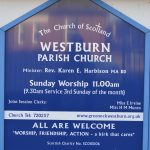 Welcome to the website of Greenock Westburn Church of Scotland

During this time when we are unable to meet together in our usual ways, we will be adding something here and on our facebook page on a daily basis…. a reflection or a prayer or a story or information or a thought or something to pass on from somewhere else
The most recent  post will be featured here on our Welcome page and all other posts can be found in our adjoining page 'Westburn at Home'
Please continue to keep in touch with friends, family , congregation members and neighbours by phone, social media and why not send someone a card or note.
Thank you
Karen
Saturday Coffee Morning & Update
Good morning
Coffee Mornings are often held in Westburn Parish Church on a Saturday and I know many of you support these events, raising money for different charities in our community and beyond and , of course, catching up with friends while enjoying home baking. So today , between 11a.m. and 12 noon, grab your favourite mug, pour yourself a cuppa, maybe even a biscuit or cake and phone someone for a chat.
Tomorrow is Palm Sunday, why not see if you can find a Palm cross from a previous year or make one from twigs, straws, clothes pegs…… or if you can get out into the garden , gather greenery and tie it together in a bundle….
Then join together with other Christians in worship by
Listening to the radio
Watching Reflections on the Quay at 11.15a.m. on BBC1 Scotland
Watching Songs of Praise
Checking  the Church of Scotland website for churches which are offering livestreaming
Please check back here tomorrow for details of Sunday@7 for Palm Sunday and for ways you can take part in our Holy Week Reflections
Our previous messages for this week can be seen below.
For earlier weeks, please visit our adjoining web page 'Westburn  at Home' and attached sub pages
Our web site will be regularly updated, so do visit us again.
If it was your purpose to visit our site, we hope that you find the information you are looking for.
If chance took you to our web site, we trust that you will find it of interest.
If you cannot find the information you are looking for, or if we can be of help in some other way, please don't hesitate to contact us. We will do our best to be of assistance.
If you are local or ever visit our area, please be assured of a very warm welcome at Greenock Westburn Church.
Photographs are displayed on various pages. By clicking on to one, an enlargement is shown.
Many thanks for browsing our site. We hope that you will enjoy your visit.